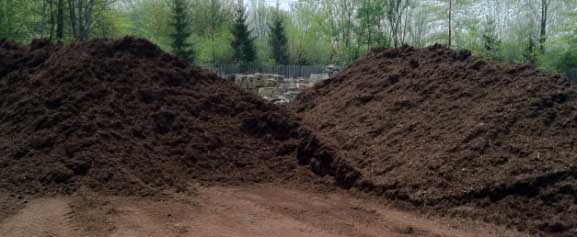 Bulk Aggregates
Bulk aggregates provide a solid foundation for your walkway, pavers, or patio. They can be comprised of different size and types of gravel, as well as sand, depending on your application.
Materials sold loose, allow for compaction
#34 River Gravel: 1″ – 3.5″
#57 River Gravel: 3/8″ – 3/4″
#10 Limestone: Fines
#57 Limestone: 3/8″ – 3/4″
#411 Limestone: Fines – 3/4″
Concrete Sand: Setting bed
How much material will I need?
Multiply length and width of the area to cover, to calculate square footage. Locate square footage on the chart below and locate the depth you need. The number in the column will tell you the number of cubic yards required.
DEPTH
2″
3″
4″
6″
8″
12″
Sq.Ft.
CUBIC YARDS OF MATERIAL NEEDED
50
1/4
1/2
1/2
1
1+
2
100
1/2
1-
1+
2
2.5
4
150
1
1-1/2
2
3
4
6
200
1+
2
2.5
3.5
5
7.5
250
1.5
2.5
3
4.5
6
9
300
2
3
3.5
5.5
7.5
11
350
2+
3.5
4.5
6.5
9
13
400
2.5
4
5
7.5
10
15
450
3
4.5
5.5
8.5
11
17
500
3+
4.5
6
9
12
18.5
550
3.5
5
7
10
13.5
20
600
3.5
5.5
7.5
11
15
22
650
4
6
8
12
16
24
700
4+
6.5
8.5
13
17
26
750
4.5
7
9.5
14
18.5
28
800
5+
7.5
10
15
20
30
850
5.5
8
10.5
15.5
21
31
900
5.5
8.5
11
17
22
33
950
6
9
12
17.5
23
35
1000
6
9
12
18.5
25
37